Armuchee Park

Armuchee Ruritan Club 2018

Armuchee Park occupies thirty one acres of land sandwiched between Richard B. Russell Airport and Armuchee Creek on Jones Mill Road. The park has been a long time attraction for residents of our community and has tremendous potential. The park currently has three ball fields, two basketball goals and a picnic pavilion. The ball fields see regular use as a practice facility for local area ball teams.
When there were talks in early 2014 about closing the park after the completion of the North Floyd Park on US-27, members of the Armuchee Ruritan Club met with county officials to see if the club could assist with some of the ongoing maintenance of the park in an effort to keep the facility open.
One of the first projects the club initiated was the installation of barriers to restrict vehicular access into the grassy areas. The park had become a favorite spot for some to go mud-bogging, which created deep tire tracks and ruts which became permanent, detracting from the park's overall appearance. The Facebook group Friends of Armuchee, led by Mac Eubanks, also signed on to help with routine collection of trash and general maintenance.
When it became apparent to county leaders that the community was willing to do whatever it takes to keep the park open,it attracted the interest of other organizations. In late May, 2015, representatives from the Armuchee Ruritan Club, the Coosa River Basin Initiative (CRBI), the Camellia Garden Club of Rome, Rome-Floyd Parks and Recreation Authority (RFPRA), Friends of Armuchee, Boy Scout Troop #28 and Trail Life Troop GA-0110 met to discuss long-range plans for the park.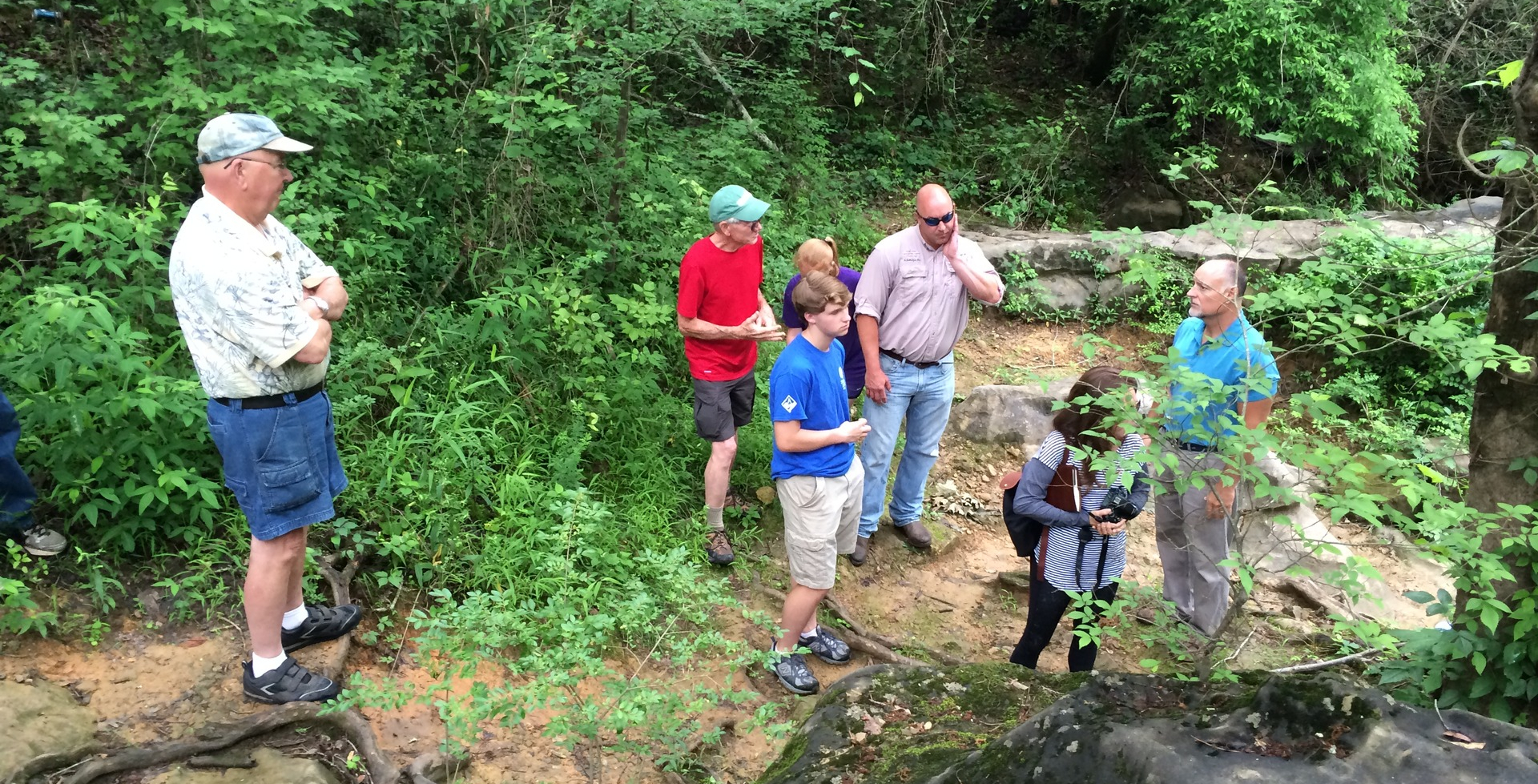 Representatives from Friends of Armuchee, Armuchee Ruritan, the Boy Scouts, Trail Life, RFPRA, Camellia Garden Club and the CRBI meet along the banks of Armuchee Creek to discuss planned improvements.
Among the ideas discussed include a major restoration project for Armuchee Creek, clearing brush to enhance views of the creek, adding a soft launch for canoes and kayaks, the repair of eroded creek banks, the addition of informational and educational signage, parking enhancements, additional greenspace and walking trails and the planting of new trees, shrubs and flowers native to the area. According to CRBI Executive Director David Tucker, "this joint effort will be directed towards restoring the park to pristine condition and will increase responsible community involvement and use."